Farm & Ranch Fence: Hot Dipped Galvanized Steel Mesh Fencing
The farm fencing can stand alone as a permanent perimeter fence, or moved around for rotational grazing, and can be used as a portable or temporary fence for horses, sheep, cattle and other livestock. It is also a very cost-effective fence to exclude deer, moose, elk, caribou, bear, coyote and other animals from crops, airfields and highways.
Farm and ranch fence is considered a permanent fencing type usually constructed on the farm/field perimeters to control livestock, protect crops and enclose pastures.
Manufactured using wire connected at each intersection complete creating a strong and durable fabric, the mesh aperture consists of graduated mesh spacing providing excellent see through visibility.
Farm & ranch fences has been designed to add an aesthetic appeal to our mesh fencing product range, a high performance system complete with excellent appearance.
Although there are a range of fence heights and horizontal wire spacing, the 9 strand, 48-in. (1200-mm) high field fence is very popularly used as farm & ranch fencing material. The actual selection of farm fence height and spacing will depend upon the type of livestock to be excluded.
To strengthen the security of farm fences, barbed wire can be installed on the posts above the fences to stop the animals. Spacing fence is very visible to the animals being excluded.
This is a kind of cost-effective mesh product available, ideal for basic perimeter applications.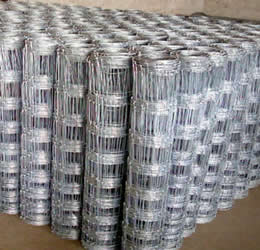 Farm & Ranch Perimeter Fences, Hot Dipped Galvanized